The world's best selling laser level: Complete KIt include Heavy Duty Tripod and 10' Grade Rod in Inches
The Spectra Precision laser LL500 is a one-person leveling system designed for the most rugged environment. Accurate, stable and reliable, the LL500 is ideal for longer range measurements across your entire site. It comes complete with a hand held or rod-mounted receiver and is also compatible with machine control receivers .

Data Sheet


Users Manue

LL500 Includes:
HL700 Laserometer
Rod Mount
Jobsite tough carrying case
Alkaline Batteries
2161 Heavy Duty Tripod
15' Grade Rod in Tenth's
Features :
High accuracy with temperature compensation provides highly stable, repeatable accuracy even under large temperature changes
Alkaline or rechargeable batteries keep the unit working and minimize downtime due to power loss
Self-leveling with built-in shut off for increased accuracy over the entire work area and reduced errors
Applications:
Checking/setting elevations, concrete forms, footings, and foundations for medium-to-large-sized jobs
Excavating, digging footings, and septic tanks with CR600 receiver
Sub-base leveling with skid steer loaders and CR600 receiver
Longer range machine control applications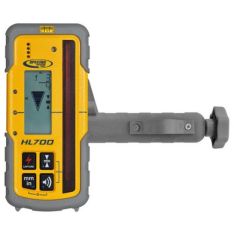 Includes an HL700 Laserometer Receiver w/Rod Clamp
Features & Benefits
Digital readout of elevation - not only will high or low arrows be displayed, but the exact distance from grade will be numerically displayed, which eliminates the need to get "on-grade" to make measurements.

Large 12.7 cm (5 inch) reception height acquires the beam quickly and makes it easy to stay in the beam.

Anti-strobe sensor stops construction strobe lights from setting off the receiver, and makes it easier to identify true laser beam signals.

Simultaneous elevation LED's signal in low light levels and over a longer range for easier reading in poor light conditions.

New CAPTURE function remotely captures and retains a measurement when the display is difficult to see.

Multiple deadband setting allows adaptation to meet all your jobsite requirements.

Dust and weatherproof housing withstands a drop of up to 3 m (10 ft) onto concrete for reduced downtime.

Two clamp positions for cut/fill or excavation. Excavation mode puts more reception height and elevation information above grade for higher utilization in digging and staking applications.
View the Complete Manuel