Powerful, accurate long range, steep slope single axis grade laser
Spectra Precision GL710, single slope grade laser. An easy-to-learn, easy-to-use one-person grade laser, economical and accurate up to a 3,000 ft diameter. With -0.5 to +25 Percent grade range(Y Axis), the GL710 is ideal for general construction, site preparation, trenching and pipe laying applications.
The GL710 (single grade) and GL720 (dual grade) lasers send a continuous, self-leveled 360-degree laser reference over your entire work area, and have a wide grade range so they can be used in a variety of slope applications.
Includes
Applications
General construction
Site preparation
Trenching
Pipe laying
Road construction
Machine control
Features
The GL710 offers automatic temperature compensation, for the industry's best accuracy over environmental changes, eliminating the need for re-calibration every time the seasons change
Automatic self-levels to 10 Percent
Extremely accurate single grade laser, use with the HL700 handheld receiver for short pipe laying runs "over the pipe"
High end single grade laser for especially high accuracy construction applications when grade is introduced in the Y-Axis
General applications: GC, site preparation, trenching, pipe laying, road construction and machine control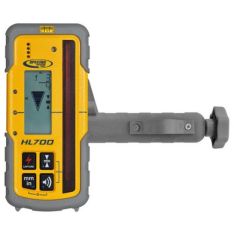 Includes an HL700 Laserometer Receiver w/Rod Clamp
Features & Benefits
Digital readout of elevation - not only will high or low arrows be displayed, but the exact distance from grade will be numerically displayed, which eliminates the need to get "on-grade" to make measurements.

Large 12.7 cm (5 inch) reception height acquires the beam quickly and makes it easy to stay in the beam.

Anti-strobe sensor stops construction strobe lights from setting off the receiver, and makes it easier to identify true laser beam signals.

Simultaneous elevation LED's signal in low light levels and over a longer range for easier reading in poor light conditions.

New CAPTURE function remotely captures and retains a measurement when the display is difficult to see.

Multiple deadband setting allows adaptation to meet all your jobsite requirements.

Dust and weatherproof housing withstands a drop of up to 3 m (10 ft) onto concrete for reduced downtime.

Two clamp positions for cut/fill or excavation. Excavation mode puts more reception height and elevation information above grade for higher utilization in digging and staking applications.
View the Complete Manuel