Powerful, accurate long range, steep slope single axis grade laser
Spectra Precision GL710, single slope grade laser. An easy-to-learn, easy-to-use one-person grade laser, economical and accurate up to a 3,000 ft diameter. With -0.5 to +25 Percent grade range(Y Axis), the GL710 is ideal for general construction, site preparation, trenching and pipe laying applications.
The GL710 (single grade) and GL720 (dual grade) lasers send a continuous, self-leveled 360-degree laser reference over your entire work area, and have a wide grade range so they can be used in a variety of slope applications.
Includes
Applications
General construction
Site preparation
Trenching
Pipe laying
Road construction
Machine control
Features
The GL710 offers automatic temperature compensation, for the industry's best accuracy over environmental changes, eliminating the need for re-calibration every time the seasons change
Automatic self-levels to 10 Percent
Extremely accurate single grade laser, use with the HL700 handheld receiver for short pipe laying runs "over the pipe"
High end single grade laser for especially high accuracy construction applications when grade is introduced in the Y-Axis
General applications: GC, site preparation, trenching, pipe laying, road construction and machine control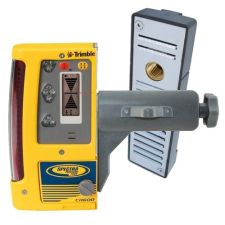 Includes CR600 Reciewver w/Rod Clamp & Magnetic Mount
Features & Benefits:
Designed for tough construction site conditions. Rugged, waterproof, lightweight magnesium housing can withstand a drop of up to 3 m (10 ft) on concrete.

Super-bright colored LED elevation indicators visibly indicate grade elevation information to the operator even in poor light and up to 100 m (350 ft) in bright sunlight.

Adjustable bandwidth lets the operator tighten the on-grade band to easily meet a variety of accuracy requirements with tighter tolerances from rough grading through form leveling.

Wraparound receiver cells with continuous pickup through an operating range of 270° provide less dead spots and improved productivity, especially for machine applications.