This is not your ordinary run of the mill gutter bracket!
When you add all the manufacturing steps that go into producing this component with the material sciences formulated into the aircraft-grade aluminum billet, it's easy to understand why Trim-A-Gutter brackets rise to the top of their class, far exceeding the low budget economy-grade gutter nails, ferrules, hangers, clips and straps used by the others.
This bracket will re-hang sagging gutters back to the original profile, with or without installing gutter-cover.
This bracket is extruded using 6000 Series alloys. This group contains silicon and magnesium in approximate proportions to form magnesium silicide, thus making it heat-treatable. The 6000 Series is known for its corrosion resistance, strength, surface quality and anodizing characteristics while offering excellent formability in a heat-treatable alloy with exceptional mechanical properties. How many gutter hangers out there can make that claim? We're just getting started. Alloyed aluminum, which has been cast into billets, is heated to a temperature at which it is soft and malleable but below the melting point. It is then forced, under thousands of pounds of pressure, through a die that replicates the bracket design specifications into lengths up to 150 feet. The extrusion is then cooled, straightened, cut to the desired length and baked in an oven to achieve the desired hardness. We're not done yet. The bracket screw holes are then drilled (not stamped), to ensure uniform gutter attachment to the fascia. Finally, the bracket is de-burred in a tumbling process to remove any sharps that can cut into an unprotected hand. Why go to all this trouble? Simple, Van Mark wants you to be competitive out there, with this bracket being the foundation for many successful and profitable Trim-A-Gutter installations without costly call backs or warranty work.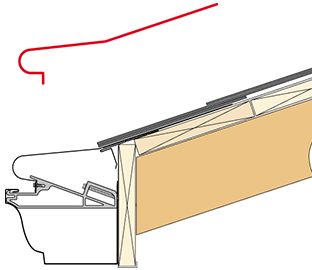 Low Slope Mount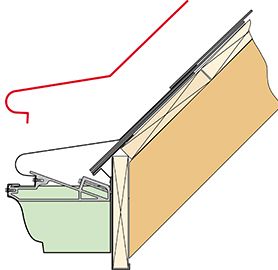 Steep Slope Mount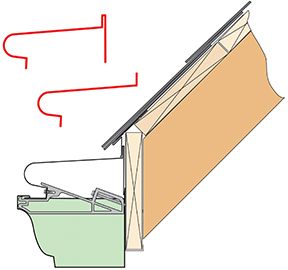 Fascia Mount
Van Mark Model No. 3026
T6 Aluminum Alloy
Triple Hollow-Core Extrusion
Heat Treated for Strength
Aircraft-Grade Alum. Billet
Can Install Alongside Old Spike & Ferrules.