Spectra Precision UL633N Universal Laser:
The Most Versatile Laser, Ever.
Horizontal, Vertical, Grade and Pipe Laying in One Laser
The Spectra Precision UL633N Universal Laser is the only construction laser allowing total automatic control of all three axes (X/Y/Z). Control of the Z axis is accomplished through the new "fan beam" technology, while control of the X and Y axis utilizes a dual radio connection. Benefiting of all the know-how of Spectra Precision, the UL633N Universal Laser is appropriate for all applications producing an easy, fast and accurate job. The Universal laser can provide precise automatic axes alignments to two desired points without positioning the receivers 90 degrees perpendicular. This allows contractors to perform easily dual axis alignments for applications such as grade work on sports fields, parking lots, tennis courts and driveways. Since the UL633N Universal Laser can work with two receivers simultaneously, contractors can measure an unknown grade value automatically between two elevation points in Grade Match mode.
Fully automatic in X, Y and Z axes – Grade Range of +/- 25%
The Spectra Precision UL633 is the first construction laser that features total automatic control of all three X, Y and Z axes. The UL633N is automatic self-leveling in horizontal, vertical and dual grade (X and Y axes) with grade ranges of -25% to +25%. New innovative technology transforms the plumb beam into a rotating fan beam. When used with the SF601 SpotFinder, the rotating fan beam provides control of the Z axis for pipe laying and vertical alignments. An intuitive icon-driven menu allows the user to quickly select the desired operations.

The UL633N has both radio and infrared communications that enable layout tasks to be performed with ease. The radio communication allows for long range use above ground and the infrared communciation is used in pipe laying applications.
For horiziontal applications, the UL633 has several unique features:
Dual Axis Plane-Lok:
On jobsites where maximum accuracy and stability are required, such as airport runways or concrete pours, precise elevations are obtained by using Dual Axis PlaneLok. This feature eliminates drift and errors caused by vibrations or temperature changes by locking and maintaining the laser reference plane on two receivers placed at the desired elevations.
Grade Match:
With Grade Match mode, contractors can measure unknown grade values automatically between two elevation points. This is particularly vaulable when matching a slope between existing elevations.
Automatic Axis Alignment:
Automatic axes alignments can be accomplished without positioning the two receivers exactly 90 degrees perpendicular to each other. The axes can be positioned at any point between 10 and 170 degrees. This allows contractors to easily perform dual axis alignments for grade work applications such as sports fields, parking lots, tennis courts, driveways or any irregular field with non-perpendicular grade profiles.
Pipe Laying:
For pipe laying and trench applications, the UL633N can align the plumb beam
automatically to the SF601 SpotFinder. Measuring a grade value through an existing pipe or an open
trench can also be done quickly and easily in automatic Spot Match mode. The UL633N and the
SpotFinder offer additional versatility for 90 degree layout applications on concrete pads as well as
indoors for wall layout. Activating the SpotLok mode ensures that the UL633N locks and holds the
plumb beam automatically to the SpotFinder at the desired direction or elevation point, providing
precise alignment.

The UL633 includes a full-function RC603 Remote Control. The large, easy to see back-lit graphical
display is very easy to operate. Contractors can do everything with the remote control that they can do at
the laser keypad, up to 330 feet (100 meters) away—even from the cab of a machine or through a pipe.

The ability to make grade changes remotely can significantly reduce setup time and speed operations.
With its rugged design, the UL633 can survive a drop of up to 3 feet (1 meter) on concrete. The laser also
features IP67 moisture and dust sealing to handle the tough construction environment.


Hand On


Data Sheet


Users Manuel


Watch it in Action on Youtub
RC603N Remote Control Specifications

Operating range1,3: up to 100 m (330 ft)
Power source: 2 x 1.5V AA alkaline batteries
Battery life1: 130 hours
Dust and waterproof: Yes - IP66
Weight: 0.26 kg (0.57 lbs)

Spot Finder SF601 Specifications

Operating range: up to 80 m (260 ft)
Power source: 4 x 1.5V AA alkaline batteries
Battery life1: 30 hours
Dust and waterproof: Yes - IP67
Weight: 0.43 kg (0.95 lbs)
Sold Separately
UL633N Includes:
2 HL760 Laserometer Receiver
RC603N Combined Radio/IR Remote Control for all applications including pipe laying
Jobsite tough carrying case
NiMH Battery Pack & Multi Volt Battery Charger
Applications
General Construction
Leveling concrete forms and footers
General construction vertical alignment and plumb such as anchor bolt and form alignment
Machine Guidance Compatible
Dual slope grading and steep slope excavating
Slope work for sports fields, tennis courts, driveways, parking garages, ramps
Pipe and Drainage Installation
Automatic Alignment for pipe laying
Measuring unknown slopes in existing pipes
Interior
Layout of walls
Installation of drop ceilings
Features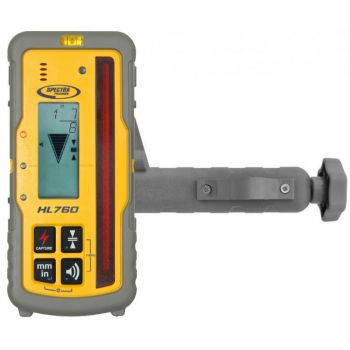 Includes 2 HL760 Radio Communication Receivers w/Rod Clamp
The Spectra Precision Laser HL760 Laserometer digital readout of elevation and fingerprint functionality, the Spectra Precision HL760 provides fast grade checking and accurate laser readings. This advanced laser detector includes all the functions of the HL760 with the addition of grade matching and PlaneLok capabilities with the new Spectra self-leveling and grade lasers.
The HL760 digital readout receiver enables Grade Match and PlaneLok features when working with the LL400HV , HV302 , GL412N and GL422N lasers. Grade match slopes the laser automatically to match the fall between two elevations, while PlaneLok is available in both horizontal and vertical planes and automatically locks the beam on the receiver and keeps it on-grade.
The HL760 has a unique fingerprint feature that reduces connection errors and conflicts on jobsites where more than one laser is being used. Once paired with the construction laser, the HL760 only accepts the beam from the laser it is paired with.
The HL760 has an IP67 rating, the HL760 is dustproof and water resistant. It can withstand a drop of up to 10 feet high onto concrete and operates up to 60 hours using two AA alkaline batteries. It also automatically shuts off after 30 minutes of being idle to save power.
The HL760 shows the exact distance from on-grade on its large front and rear LCDs. It also has six accuracy settings and selectable units of measure are displayed in millimeter, centimeter, feet, inch or fractional inches. In addition, the HL760 can communicate with another HL760 for a longer range, wireless remote display and monitoring.
Features & Benefits
Fingerprint functionality detects only the laser beam of the paired transmitter
Digital readout of elevation
Works with Spectra lasers in automatic Grade Match and PlaneLok applications
Six accuracy levels
Anti-strobe sensor to prevent false reading from jobsite strobe lights
Large reception height to ease beam reception
Automatic shut off after 30 minutes
Drop resistant up to ten feet
LCD screen
Up to 60-hour battery life
Water resistant and dustproof to IP-67
3-year warranty