Versatile Automatic Grade Lasers for Level, Grade and Vertical Alignment
The automatic, self-leveling Spectra Precision® GL422-14N dual grade lasers are the most rugged, cost-effective lasers that do three jobs—level, grade, and vertical alignment. Even in harsh jobsite conditions, the GL412N/GL422N delivers consistently reliable and accurate performance, enabling you to work faster and smarter.
The rugged GL412N/GL422N lasers can withstand drops of up to 1 meter (3 feet) onto concrete and tripod tipovers up to 1.5 meters (5 feet). This strength, combined with full weatherproofing and dustproofing, reduces downtime and lowers repair costs over the life of the product.
Each GL412N and GL422N laser system now includes the advanced HL760 Digital Readout (DRO) receiver that provides automatic Grade Match - measures and displays the existing grade over unknown ground and eliminates time consuming and error prone calculations, and PlaneLok - automatically locks on to an existing elevation or vertical alignment point which eliminates all drift or possibility of error due to improper calibration or weather, and the unique "Fingerprint" function - receiver only accepts the beam from the laser it is paired with.
2-Way full fuction remote control allows grade changes to be made from anywhere on the job-site and has mask mode to eliminate interference from other crews running lasers on the job-site.

Data Sheet


Users Manuel



RC402N for total remote control. Program the exact percent of grade from .001% to 9.999%
GL422N-14 Includes:
CR600 Combination Receiver
RC402N Remote Control
NiMH Batteries
110v Battery Charger
Jobsite tough carrying case
Features
Simplifies level, grade and vertical alignment setups
Increases reliability, accuracy and durability
Easy to transport, easy to carry, easy to store
Energy-efficient design offers long battery life
Highly durable design enables the GL412N/GL422N to survive a drop up to 1 m (3 feet) onto concrete
Radio remote control offers access to all laser function from every jobsite place
Applications
Leveling concrete forms and footers
General construction vertical alignment and plumb such as anchor bolt and form alignment
Grading and excavating
Concrete sections with runoff for sports fields, tennis courts and driveways
Steep slope road embankments and ditch banks
Parking garages, ramps and drainage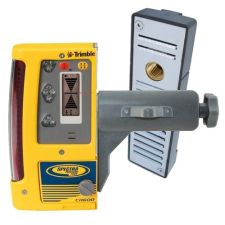 Includes CR600 Receiver w/Rod Clamp and Magnetic Mount
Features and Benefits:
Designed for tough construction site conditions. Rugged, waterproof, lightweight magnesium housing can withstand a drop of up to 3 m (10 ft) on concrete.

Super-bright colored LED elevation indicators visibly indicate grade elevation information to the operator even in poor light and up to 100 m (350 ft) in bright sunlight.

Adjustable bandwidth lets the operator tighten the on-grade band to easily meet a variety of accuracy requirements with tighter tolerances from rough grading through form leveling.

Wraparound receiver cells with continuous pickup through an operating range of 270° provide less dead spots and improved productivity, especially for machine applications.