Spectra Precision® QM95 Quick Measure - The Rugged Laser Long Distance Meter
The Spectra Precision QM95 is a fast, high accuracy laser distance meter designed for indoor and outdoor use. The QM95 has the longest range of all the Quick Measure distance meters - up to 650 feet (200 m). A large backlit LCD is easy to see in all conditions.
The QM95 is designed and built specifically for the tough construction environment. Use of engineered plastics, generous use of rubber over-mold and clever electronic isolation make the Quick Measure family of distance meters the most robust available. They stand up to tough job site conditions.
Features and Benefits:
Rugged, designed to withstand drops up to 5 feet ( 1.5 m) reduces downtime
Measuring range up to 650 feet (200 m) measure in difficult to reach areas
Accuracy of ±1/24 inch (±1.0 mm) over the entire range reduces errors
Simple area, addition and subtraction functions reduce calculation errors
Large backlit LCD easy to see in all conditions
Quick fast measurement response
Long battery life 8000 measurements
3-Year Warranty 2-Years No Cost
Applications
Measuring distances
Checking building square, area, and volume
Measuring for material estimation
Spacing of installation points
Compare Models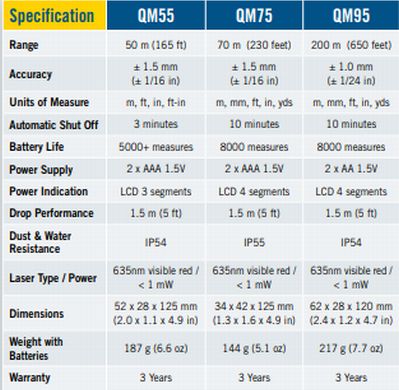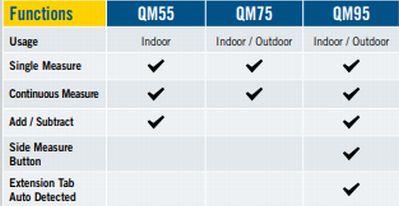 ---
---