Single Grade Lasers with +/- 25% Grade Range
Easy-to-Use and Full-Featured Automatic Self-Leveling
The GL612 is a single grade laser and the GL622 is a dual grade laser. Both are rugged, automatic self-leveling lasers featuring grade capability of ± 25% and can be used in a wide variety of grading, excavating and alignment applications by general and specialty contractors.
The GL612 and GL622 include the RC602 full-function radio remote control which offers advanced automatic features like Grade Match, PlaneLok and Automatic Axis Alignment. The remote as well as the transmitters have an intuitive graphic display which is back-lit for ease of viewing. Contractors can do everything with the remote control that they can do at the laser keypad, up to 100 meters (330 feet) away even from the cab of a machine. The ability to make grade changes remotely can significantly reduce setup time and speed operations.
Each laser package also includes the advanced HL750 Laserometer that provides a digital readout of elevation and can be used at an operating diameter of up to 800 meters (2,600 feet). Wireless communication between the HL750 Laserometer and the transmitters provide automatic Grade Matching which allows measurement of unknown grade values between two points. For applications that require maximum stability and accuracy, PlaneLok is available in both the horizontal and vertical planes. PlaneLok automatically locks the beam on the receiver and keeps it on grade. This reduces typical environmental factors that may induce an error. In addition, the HL750 Laserometer can communicate with another HL750 for long-range wireless remote display and monitoring.
The GL612 and GL622 Grade Lasers self-plumb in the vertical position to allow an even wider range of applications such as such as anchor bolt installation, form, tilt up, and curtain wall plumbing. With its rugged design, the GL612/622 Grade Lasers can survive a drop of up to 1 meter (3 feet) on concrete. The laser also features IP67 moisture and dust sealing to handle the tough construction environment.
The GL612/622 Grade Lasers retains all well accept functions of the GL500 series lasers with additional advanced features and benefits offering much more versatilities.
Includes an HL750 Radio Communication Receiver w/Rod Clamp

The Spectra Precision® Laser HL750 Laserometer is a highly versatile laser receiver for basic and advanced leveling and aligning applications. It is designed for general, concrete and site preparation contractors. The HL750 measures elevations across the site, and is ideal for use with any rotating transmitter.

The HL750 features a digital readout of elevation that provides a numeric display of ± 5 cm (± 2 inches). The readout is displayed on the large front and rear LCD's and shows exactly how far the elevation is from on-grade for fast and easy cut/fill readings. Accurate measurements can be made without moving the rod clamp, saving time and increasing productivity. Selectable units of measure can be displayed meeting your application - mm, cm, ft, in or fractional inches.

A 12.7 cm (5 inch) reception height, more than double the industry standard, allows quick acquisition of the laser beam. An anti-strobe sensor prevents false readings from site strobe lights.

Radio communication allows working with another HL750 for long range remote display and monitoring capability. The HL750 also communicates with the GL512 and GL522 Grade Laser for PlanLok and Grade Matching capabilities.

The Laserometer is designed to survive the tough construction site conditions; it is totally waterproof and can withstand a drop of 3 meters (10 feet) onto concrete. The HL750 offers a 3-year "No Excuses" warranty.

Features & Benefits

Digital readout of elevation not only will high or low arrows be displayed, but the exact distance from grade will be numerically displayed, which eliminates the need to get "on-grade" to make measurements.

Large 12.7 cm (5 inch) reception height acquires the beam quickly and makes it easy to stay in the beam.

Works with another HL750 for long range wireless remote display and monitoring even when the second receiver is out of sight (up to 80 m or 260 ft.)

Machine operators can monitor elevation shots taken by another person or foremen can monitor elevations and cut/fill readings from anywhere on the jobsite.

Anti-strobe sensor stops construction strobe lights from setting off the receiver, and makes it easier to identify true laser beam signals.

Multiple deadband setting allows adaptation to meet all your jobsite requirements.

Dust and weatherproof housing withstands a drop of up to 3 m (10 ft) onto concrete for reduced downtime.

Two clamp positions for cut/fill or excavation. Excavation mode puts more reception height and elevation information above grade for higher utilization in digging and staking applications.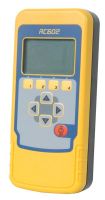 RC602 for total remote control. Program the exact percent of grade from .001% to 9.999%
GL612 Includes:
HL750 Laserometer Receiver
RC602 Remote Control
NiMH Batteries
Multi Volt Battery Charger
Jobsite tough carrying case
Applications
General construction leveling such as forms, footers and pads
Precision placement of concrete for critical specification surfaces over long distance and with laser controlled screeds (Automatic PlaneLok)
Drift free general construction vertical alignment and plumb for anchor bolt installation, plus form, tilt up and curtain wall plumbing (Automatic PlaneLok)
General construction grading and excavating
Steep slope road embankments and ditch banks
Sports fields, driveways, ramps and drainage
Features
Automatic electronic self-leveling provides fast, easy horizontal level, grade, and vertical plumb setup.
Large compensated grade range from -25% to +25%
Quick setups with the radio remote control for horizontal, vertical and grade applications
Electronic Leveling Vibration Filter dampens vibrations typically experienced on tall tripods, in high winds, or on high vibration jobsites.
No rework due to automatic temperature and grade- and cross axis compensation
Automatic Axis Alignment doing precise automatic axes alignments to a desired alignment points without positioning the receivers 90° perpendicular
(+/-40° alignment range on Y- and X-axis)
Automatic Grade Match (Y- or X-axis separate) measures and displays the existing grade over unknown ground and eliminates time consuming and error prone calculations, time spent searching for grade plans, and over excavating (X- only GL622)
Automatic PlaneLok (Y- or X-axis) automatically locks on to an existing elevation or vertical alignment point which eliminates all drift or possibility of error due to improper calibration or weather (X- only GL622)
Very rugged, survives a 1 m (3 ft) drop on concrete reduces service and repair costs
Mask mode eliminates interference with other crews on the jobsite
Different rotation speeds (continuously adjustable) plus Scanning Mode offer additional value and make sure also requirements of Interior jobsite will be fulfilled (only GL622)