The world's best selling laser level:
The Spectra Precision laser LL500 is a one-person leveling system designed for the most rugged environment. Accurate, stable and reliable, the LL500 is ideal for longer range measurements across your entire site. It comes complete with a hand held or rod-mounted receiver and is also compatible with machine control receivers .

Data Sheet


Users Manue

LL500 Includes:
CR600 Combination Receiver
Magnetic Mount
Rod Mount
Jobsite tough carrying case
NiMH Batteries
110v Battery Charger
Features :
High accuracy with temperature compensation provides highly stable, repeatable accuracy even under large temperature changes
Alkaline or rechargeable batteries keep the unit working and minimize downtime due to power loss
Self-leveling with built-in shut off for increased accuracy over the entire work area and reduced errors
Applications:
Checking/setting elevations, concrete forms, footings, and foundations for medium-to-large-sized jobs
Excavating, digging footings, and septic tanks with CR600 receiver
Sub-base leveling with skid steer loaders and CR600 receiver
Longer range machine control applications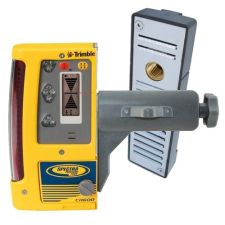 Includes CR600 Reciever w/Rod Clamp & Magnetic Mount
Features & Benefits:
Designed for tough construction site conditions. Rugged, waterproof, lightweight magnesium housing can withstand a drop of up to 3 m (10 ft) on concrete.

Super-bright colored LED elevation indicators visibly indicate grade elevation information to the operator even in poor light and up to 100 m (350 ft) in bright sunlight.

Adjustable bandwidth lets the operator tighten the on-grade band to easily meet a variety of accuracy requirements with tighter tolerances from rough grading through form leveling.

Wraparound receiver cells with continuous pickup through an operating range of 270° provide less dead spots and improved productivity, especially for machine applications.