The automatic, self-leveling Spectra Precision Laser LL300N is the most rugged laser level in it's class.
The Spectra Precision LL300N Laser Level features a rugged design with a metal sunshade that provides superior drop and weather protection (IP66). Built to withstand severe drops of up to 3 ft (1 m) directly onto concrete, or up to 5 ft (1.5 m) when pushed over on a tripod means less downtime and cost due to damage caused by accidental drop or tipover... and lower repair costs over the life of the product.
The LL300's self-leveling capability results in outstanding accuracy and ease of use. Since the LL300 levels itself when turned on, setting up is easy with just one button press. The optional RC601 remote control gives you the option of controlling the unit from the rod position when doing slope matching. It also offers single-axis slope mode with self-leveling in the cross axis, providing more accurate grade measurements.
LL300N Includes:
HL450 Receiver
Rod Mount
Jobsite tough carrying case
Alkaline Batteries
Features & Benefits:
Increases productivity with fast setups, fewer mechanical parts, and automatic self-leveling
Maintains performance even in rainy, dusty and other harsh job site and weather conditions
Durable design reduces downtime due to drops and tripod tipovers
Minimizes power costs, increases reliability with choice of rechargeable or alkaline batteries
Increases flexibility with remote control slope option
Applications:
Elevation control across the construction site
Excavations
Basic Slopes
Leveling forms and footers
Concrete pours
4-feet / 1-meter marks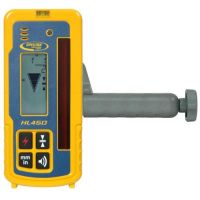 Includes an HL450 Receiver w/Rod Clamp
Features & Benefits
The HL450 features a digital readout of elevation that provides a numeric display of ±1.5 inches (±38 mm). The readout is displayed on the large front and rear LCD's and shows exactly how far the elevation is from on-grade. Accurate measurements can be made without moving the rod clamp, saving time and increasing productivity.
The HL450 has a 4 inch (102 mm) reception height, double the typical industry standard, which allows quick acquisition of the laser beam.
Also included is a patented anti-strobe sensor that prevents construction lights from setting off the receiver and makes it easier to identify the laser beam signals.