Trim-A-Brake II ™ has been there to help launch many successful siding careers!
Brake shown with optional leg kit (Not Included)
Van Mark's most versatile utility brake, the Trim-A-Brake II , was designed for our contractors who are constantly on the go. This light-weight brake loads into the truck quickly for use among multiple crews and requires little setup or maintenance. For making basic shapes, this is the perfect brake for maintenance crews and for use in the shop, or on any job.
All your projects may not be this tough, but when they are, rest assured Trim-A-Brake II will meet the challenge head on. Years of dedication and commitment to improving performance have gone into this brake resulting in a unit you can take to your job knowing it will deliver and that's one less worry for you. Whether your a seasoned pro, or just starting out, you'll appreciate Trim-A-Brake II for its simplistic and durable design.
Van Mark Model No. T650
Hinge pocket helps prevent scoring damage to components
Rigid "I" beam base rails ensure brake stays in calibration
Full loop handle provides uniform bending along entire piece
Material stops allow repeat bending without re-measuring
Brake has a 13 inch throat depth and vinyl strip for protecting material
Perfect for maintenance crews and management companies

Common Bending Capacities

Material

Recommended

Aluminum Coil

.019"

Gutter Coil

.024"
Capacities are based on standard metal properties for coil and sheet
Unique Toggle-Lock Handle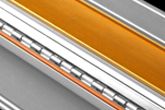 Vinyl Strips Reduce Marring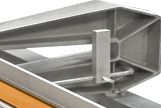 Material Stops allow for repeat bends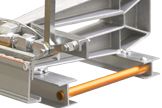 Carrying Handles and "I" Beam Rails