Oztec BP-50A Backpack Concrete Vibrator Package includes
Oztec BP-50A Gas Backpack Concrete Vibrator Honda 2.5 HP w/Quick Disconnect
2.5" x 14" Rubber Head
10' Flexible Pencil Head Shaft
It must say "OZTEC" to be the industry's best concrete vibrator.
The BP-50a is equipped with a totally enclosed rotary throttle allowing the operator to comfortably control the engine while preventing we concrete from entering and clogging the throttle mechanism. A kill switch is also conveniently located in the same handle. The patented rotary throttle has been specifically designed and engineered to eliminate the operators variable setting of engine speed. This feature will ensure the the unit will consistently produce the proper vibrations per minute resulting in optimum concrete consolidation.
Powerful, portable and reliable…Oztec gas power units, provide ultimate and immediate adaptability on the job. Utilizing rugged and dependable Honda gasoline engines, coupled to our "speed-up" transmission, vibrator heads develop 12,000 vpm and never drop below 10,000vpm...Even in the heaviest low slump concrete loads. (Tested in near 0 slump concrete). This 10,000 - 12,000vpm range is essential for high-quality concrete. Direct drive units "scream", have short lives and usually drop below 10,000vpm when the head is immersed in concrete
Mounted on very comfortable frames, Oztec backpack power units allow operators incredible maneuverability around the job.
Oztec power units come standard with the Quick Disconnect "QD" system. Changing shafts and heads on the job is a snap.
Oztec Model No. BP-50A
Run time with full tank approximately 1 hour plus. .
Honda 2.25 HP 4 stroke engine
Runs vibrator heads 11,000 to 12,000 vpm
Comes standard with the Quick Disconnect "QD" system
Maximum Head Size 2.5" Steel 2.5" Rubber
Oztec units meet all United States OSHA and Canadian safety standards
Oztec's "High Efficiency RubberHead" Outperforms any other type of vibrator
Epoxy coated rebar presents a particularly troublesome problem. Steel heads act like an electric hammer, striking any rebar or forms they contact, over 10,000 times per minute, with a force from hundreds to over 2,000 pounds per blow. Contact with a steel vibrator head of as little as one second can chip enough coating to subject the steel to deep rust. Oztec's patented High Efficiency "RubberHead " vibrator head not only meets DOT non-metal head specifications for protecting coated rebar and expensive forms, but exhibit some very special and unique properties. The High Efficiency Rubber Head urethane dimpled construction sends strong shock waves off the entire length of the head, with a larger radius of action, producing denser concrete with less voids to patch.
Why the Oztec "RubberHead TM " outperforms any other type of Vibrator.
(a.) When a smooth vibrator head (round, square or any other shape) is lowered into a relatively stiff concrete batch, the front or nose of the vibrator drills a hole. It pushes away concrete faster than it can return. Result, shock waves produced mostly from the vibrator's front end.
(b.) Oztec's patented "RubberHead" has a large number of openings which allow wet concrete to cool the inner shell. These openings act like "suction cups", which keeps concrete in contact with the entire length of the vibrator head, sending strong shock waves into the mass.
| | |
| --- | --- |
| | |
| Smooth vibrator head | Oztec's patented "RubberHead " |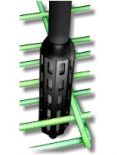 Eliminates damage to epoxy coated rebar caused by a standard steel vibrator head
Oztec's patented High Efficiency RubberHead
Will outperform any other type of vibrator…round, square, hi-cycle, etc…Any Type!
Will protect epoxy coated rebar and expensive forms.
Is outstanding in low slump (to "0" slump) concrete.
Essential in large pours of very stiff concrete.
Makes concrete denser with less voids to patch.
Vibrates at 12,000vpm, never drops below 10,500vpm when lowered deep into low slump concrete.
Provides Superior Action.
Is an absolute must for Architectural concrete where cosmetic surfaces are essential.
All Oztec vibrators meet or exceed ACI specification # 309
Oztec Model No. HR 188 OZ