The automatic, self-leveling Spectra Precision Laser LL300N is the most rugged laser level in it's class.
The Spectra Precision Laser LL300N is rugged enough to survive drops of up to 1 meter (3 feet) onto concrete and can be tipped on a tripod up to 1.5 meters (5 feet) and keep working. This strength, combined with full weather and dust proofing, results in reduced downtime and lower repair costs over the life of the product.
The LL300's self-leveling capability results in outstanding accuracy and ease of use. Since the LL300 levels itself when turned on, setting up is easy with just one button press. The optional RC601 remote control gives you the option of controlling the unit from the rod position when doing slope matching. It also offers single-axis slope mode with self-leveling in the cross axis, providing more accurate grade measurements.
LL300N-10 Includes:
CR600 Combination Receiver
Magnetic Mount
Rod Mount
Jobsite tough carrying case
Alkaline Batteries
Features & Benefits:
Increases productivity with fast setups, fewer mechanical parts, and automatic self-leveling
Maintains performance even in rainy, dusty and other harsh job site and weather conditions
Durable design reduces downtime due to drops and tripod tipovers
Minimizes power costs, increases reliability with choice of rechargeable or alkaline batteries
Increases flexibility with remote control slope option
Applications:
Elevation control across the construction site
Excavations
Basic Slopes
Leveling forms and footers
Concrete pours
4-feet / 1-meter marks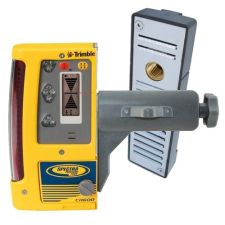 Includes CR600 Reciever w/Rod Clamp & Magnetic Mount
Features & Benefits:
Designed for tough construction site conditions. Rugged, waterproof, lightweight magnesium housing can withstand a drop of up to 3 m (10 ft) on concrete.

Super-bright colored LED elevation indicators visibly indicate grade elevation information to the operator even in poor light and up to 100 m (350 ft) in bright sunlight.

Adjustable bandwidth lets the operator tighten the on-grade band to easily meet a variety of accuracy requirements with tighter tolerances from rough grading through form leveling.

Wraparound receiver cells with continuous pickup through an operating range of 270° provide less dead spots and improved productivity, especially for machine applications.