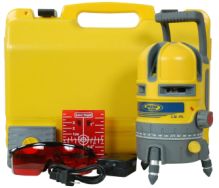 Spectra 1.5 PL Precision Cross Line Layout Laser
The Spectra Precision® 1.5PL Precision Laser is an accurate, automatic self-leveling multi-purpose tool with 2 vertical planes, a horizontal plane and down plummet. For interior building and remodeling, the laser is used for horizontal and vertical alignment, wall layout, acoustical ceiling installation, point transfer up and down, wall and floor tiles, finish carpentry, and 90 degree squaring. For exterior work with the optional HR220, the laser is used for applications such as elevation transfers, footers, anchor bolts, decks, patios, swimming pools and septic system installation. The 1.5PL is a precise instrument that is ideal for institutional work, such as hospitals and schools, with high accuracy requirements.
The 1.5PL incorporates a rotating base with fine adjust knobs that make setup quick, easy and accurate. The integrated tripod legs position the 1.5PL above floor tracks and allow the down plummet beam to be easily spotted. A handle provides safe transport. The 1.5PL is supplied in a hard plastic case with protective foam cushioning. It is an easy-to-use instrument that provides one-person replacement of a level, square, plumb bob and tapes (to verify square). The 1.5PL will be used every day on every job to reduce layout time, reduce costly mistakes and improve work accuracy.
The 1.5PL is a precise laser instrument that provides complete product solutions for interior / exterior construction positioning, leveling, and alignment applications for light commercial construction contractors, homebuilders, remodeling contractors, and specialty trade personnel including plumbers and electricians, and large institution precision interior work.
Users Manuel

1.5PL Features and Benefits

• Automatic self-leveling and plumb assures accuracy and fast setup
• One person installation of walls, doors, ceiling track and other overhead fixtures without the need for a plumb-bob, squares or tapes
• Fast, one person 90° layout of rooms, walls, tile, carpet squares and fixtures
• Includes both cost-saving rechargeable battery pack and back-up alkaline battery pack
• Rotational base with fine adjust knobs make position adjustment fast, easy and accurate
• Built in collapsible tripod legs allow clearance of floor track and visible plummet beam
• 1.5PL system includes a hard case with protective foam, 2 battery packs, charger, laser glasses and laser target; 1.5PL-2 includes HR220 and clamp
Applications

• Interior plumb, level, layout and square applications
• Drywall track and walls installation
• Cabinet and trim installation, finish carpentry
• Ceiling installation
• Garage and interior door installation
• Institution utility layout and installation
• Exterior level, layout and square applications with the
HR220 receiver to 125 ft (55 m)
• Decks, patios, septic system and swimming pool installation

1.5PL Key Specifications
Number of Laser Beams
1 Horizontal, 2 Vertical Planes with 4 Crosslines, and 1 Plumb Down Beam
Laser Beams Type
635 nm Class 3A/3R
Accuracy
1/32" @ 17 ft (1.0 mm @ 5 m)
Operating Range (visual)
100 ft (55 m)
Self-Leveling Range
+/- 3 degrees
Self leveling range indicator
Bubble vial displays green when in self-leveling range and turns red if out of range
Power Source
NiMH-recharge pack + back up 4xAA alkaline batteries
Battery Life (4 AA)
> 7 hours all beams on (NiMH/alkaline)
Waterproof
IP54
Warranty
1 year